HS Memorial Arboretum

---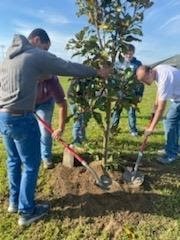 FFA is in the process of establishing a memorial arboretum. This "tree garden" is located at the agriculture greenhouse at the back of the school.
An arboretum is a botanical collection composed exclusively of trees. Specifically, FFA's arboretum is a botanical garden containing living collections of woody plants and is intended for scientific study. It will also serve as a "memorial" area. The garden will serve PreK-12th grade students and will assist in their study of botany. When completed, the FFA Memorial Arboretum will be perfect place to explore tree varieties and students will be able to track plant growth and behaviors.
Our tree planting took place March 15 and involved several classes at the High School including FFA students. Funds for the project were provided by the Southwest Georgia ReLEAF Grant in conjunction with Miller Shape up, Miller County FFA, and Miller County Collaborative.
A huge THANK YOU goes to Charles & Bryan Pickle with Austin Birdsong for providing the equipment and driver to assist with the project. Ag students were able to hone an additional skill; they became familiar with the utilization of the "old fashioned" hole diggers.
Members of the community can purchase a tree in honor of or in memory of someone by contacting Ms. Mandy Long at 229-220-6512. Plaques will be placed with each tree with botanical facts and the name of the individual for whom the tree was purchased.
Another way the Ag department is adding to the "botanical" knowledge for various students in our school system is the planting of a "cabbage patch". A "cabbage patch" has been collectively planted with our 3rd grade elementary students via the guidance of agriculture education students. The 3rd grade students will participate in the planting, nurturing, and harvesting of the cabbage grown in the patch.